Medicare Prescription Drug Plans
Prescription Drug coverage, known as Medicare Part D, is a critical piece of the Medicare puzzle. To get Part D coverage, you must have either a standalone Prescription Drug Plan (PDP) or a Medicare Advantage plan that includes drug coverage.  Unfortunately, choosing the wrong Prescription Drug Plan for your medication needs can cost you hundreds or even thousands of dollars out-of-pocket throughout the year.
All drug plans have four phases but you may not encounter all phases depending on the cost of your medications and how much you and the plan have spent on your medications.
Annual Deductible: Your Cost = 100% ($0 – $445)
Patient pays for drugs until they reach the deductible amount set by the plan
Not all Part D plans have a deductible
If the plan does not have a deductible, coverage starts with the first prescription filled.
Initial Coverage: Your Cost = 25% ($1,032.50)
Patient pays a copay or co-insurance and the plan pays the rest
Patient stays in this stage until the total drug costs reach $4,130. This amount is paid by the patient and the plan. The patient portion is 25%.
Coverage Gap (Donut Hole): You alone spend $6,550
Patients pay 25% or brand name drugs and 25% of generic drugs
Patients stay in this phase until your total out-of-pocket costs reach $6,550
Catastrophic Coverage: You pay greater of 5% OR $9.20 for brand/$3.70 generic
Patient pays a small copay or coinsurance amount
Patient stays in this stage for the rest of the plan year
Most Medicare drug plans have their own list of covered medications called a formulary. Plans cover both generic and brand-name prescription drugs. All Medicare drug plans generally must cover at least two drugs per drug category, though plans can choose which specific drugs they cover. This ensures that people with different medical conditions can get the prescription drugs they need.
Sold by private insurance companies
Drugs have different costs according to the plan formulary and pharmacy
There are two ways to get Medicare drug coverage:
Stand-alone prescription drug plan (PDP)
Medicare Advantage Plan
Monthly Premiums vary by plan
May have annual deductible and an out-of-pocket max
To lower costs, many plans place drugs into different "tiers" within their formularies. Each plan can divide its tiers in different ways and each tier costs a different amount. Generally, a drug in a lower tier will cost the beneficiary less than a drug in a higher tier.
Example of a Drug Plan's Tiers
Tier 1—Lowest copayment: Most generic prescription drugs.
Tier 2—Medium copayment: Preferred, brand-name prescription drugs.
Tier 3—Higher copayment: Non-preferred, brand-name prescription drugs.
Specialty tier—Highest copayment: Very high-cost prescription drugs.
In some cases, if your drug is in a higher, more expensive tier, and your prescriber thinks you need that drug instead of a similar drug on a lower tier, you can file an exception and ask your plan for a lower-tier placement/copayment.
The Coverage Gap: What's the Donut Hole?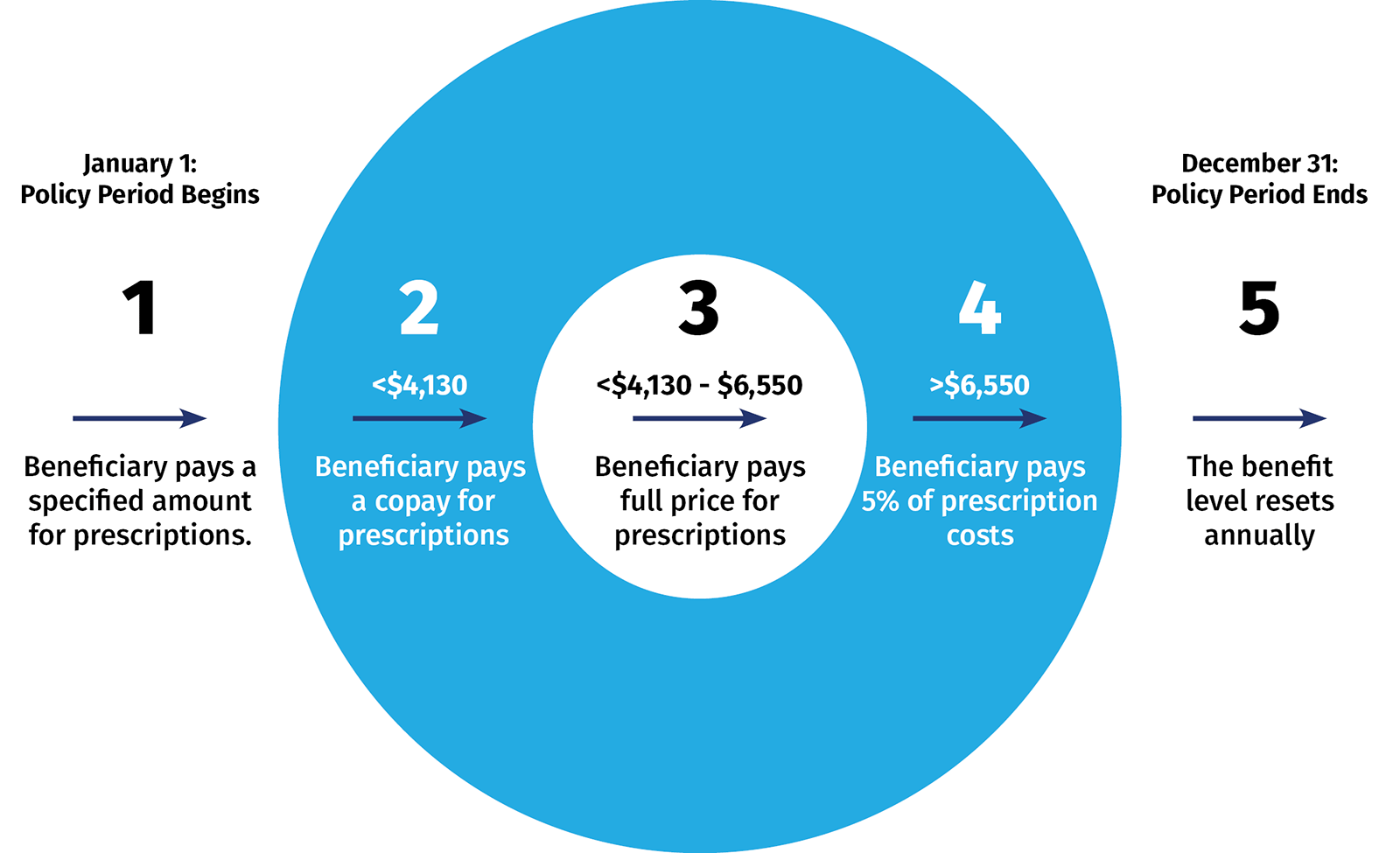 Most Medicare drug plans have a coverage gap, also called the "donut hole". This means there is a temporary limit on the plan's drug coverage.
Not everyone will enter this coverage gap, which begins after you and your drug plan have spent $4,130 on covered drugs in 2021. This amount may change each year. People with Medicare who get Extra Help paying Part D costs will not enter the coverage gap.
When you're in the coverage gap, you will not pay more than 25% of the cost for brand-name or generic drugs. Some plans may offer even lower costs in the coverage gap.
Although you will pay no more than 25% of the price for the brand-name drug, almost the full price of the drug will count as out-of-pocket costs to you, which puts you out of the coverage gap and into "Catastrophic" coverage. What you pay and what the manufacturer pays (95% of the cost of the drug) will count toward out-out-pocket spending.
Part D Late Enrollment Penalty
You may owe a late enrollment penalty if, for any continuous period of 63 days or more after your Initial Enrollment Period is over, you go without one of the following:
A standalone Medicare Prescription Drug Plan (Part D).
A Medicare Advantage Plan (Part C) (like an HMO or PPO) or another Medicare health plan that offers Medicare prescription drug coverage.
Creditable prescription drug coverage (Like group health coverage or VA/ChampVA/Tricare).
The late enrollment penalty is added to your Part D monthly premium, and the cost depends on how long you went without Part D or creditable prescription drug coverage.
Medicare calculates the penalty by multiplying 1% of the "national base beneficiary premium" ($33.06 in 2021) times the number of full, uncovered months the beneficiary did not have Part D or creditable coverage. The monthly premium is rounded to the nearest $.10 and added to your monthly Part D premium. The national base beneficiary premium may change each year, so your penalty amount may also change each year and would be assessed permanently.
For example: If you go 14 months without this coverage and apply for Part D coverage in 2021, the Medicare Part D penalty will be fourteen percent. 14% times $32.74 equals $4.5836. This rounds to $4.60 per month, which would be added to your monthly Part D Prescription Drug Plan premium.