In 2003, the administration led by George W. Bush introduced a significant Medicare expansion known as Part D. This voluntary component focuses on covering self-administered prescription medications. Seniors who are covered by Medicare can opt for Part D through private insurance providers, either by adding it to their Original Medicare or enhancing their coverage with private Medicare Part C plans.
Originally, Medicare Part D operated with two phases of coverage to address prescription drug expenses. The initial phase involves the standard coverage offered by the enrollee's insurance plan, which covers prescription medications up to a designated spending threshold – $4,660 in 2023.
Once this spending threshold is reached, the standard Part D coverage concludes, and "catastrophic coverage" takes effect. Catastrophic coverage has no upper limit, with the threshold for this coverage starting at $7,440 for out-of-pocket prescription drug costs in 2023.
The transition from standard coverage to catastrophic coverage is referred to as the coverage gap, more commonly known as the "donut hole". When it comes to brand-name drugs, your financial responsibility will not exceed 25% of the drug cost along with a 25% dispensing fee. Opting to purchase medications at a pharmacy or via mail will earn you a discounted rate. Both your payment and the manufacturer's contribution (95%) will contribute to your out-of-pocket expenses, aiding in your progress towards exiting the donut hole.
For generic drugs, your payment will be set at 25% of the full price, while Medicare will pay the remaining 75%. It's worth noting that only your portion of the payment will contribute to your advancement out of the donut hole.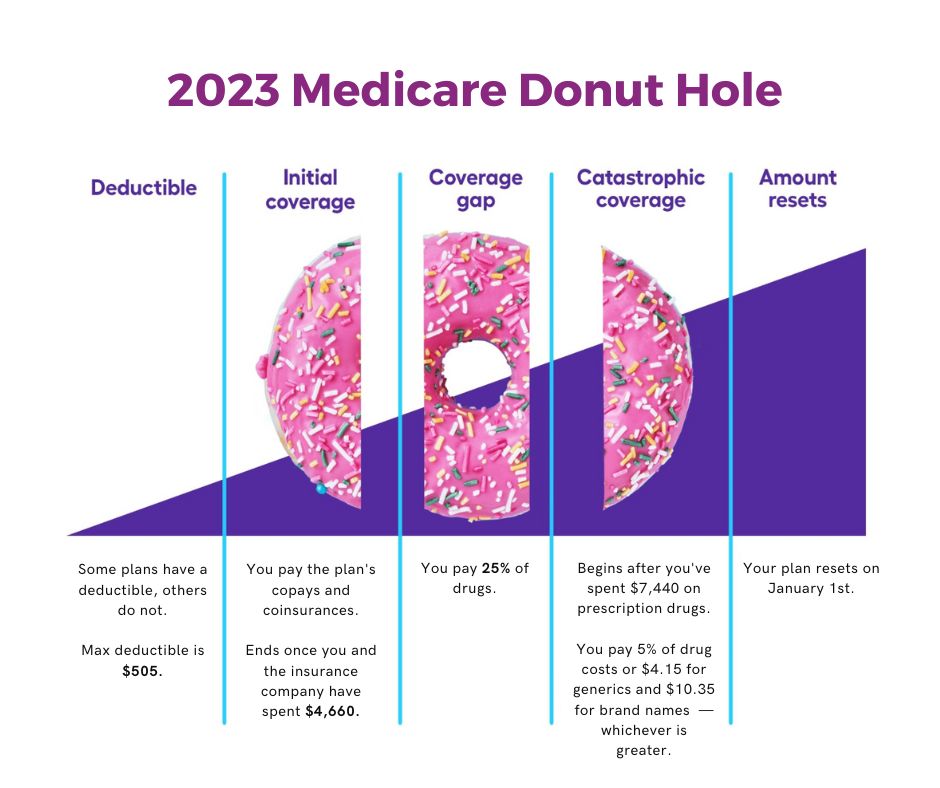 How do you leave the donut hole?
You leave the donut hole once you and your plan have spent a total of $7,440 on covered drugs in a year. At that point, you enter catastrophic coverage. In catastrophic coverage, you pay a much lower percentage of the cost of your drugs, usually 5% or 6%.
The accumulation of your out-of-pocket expenses for prescription drugs, encompassing copays, coinsurance, and potential deductibles, all play a role in reaching the specified dollar limits. Additionally, other factors contribute to these limits, such as the payments your plan makes for your medications during the initial coverage phase, discounts extended by drug manufacturers during the coverage gap phase, and any payments made by third parties on your behalf, including financial assistance programs, regardless of the payment stage.
How can you navigate the Part D coverage gap?
There are a few things you can do to navigate the Part D coverage gap:
Buy generic drugs: Generic drugs are typically much cheaper than brand-name drugs. If you can, try to switch to generic drugs when you enter the donut hole.
Shop around for a new prescription drug plan: Not all plans have the same donut hole coverage. Some plans may have lower copays or deductibles, which can help you save money.
Consider getting Extra Help: Extra Help is a government program that can help you pay for your Medicare Part D costs. If you qualify for Extra Help, you won't have to pay anything for your drugs while you're in the donut hole.
Talk to your doctor: Your doctor may be able to prescribe you a less expensive medication or recommend a way to take your medication that will save you money.
What is the future of the Part D donut hole?
According to the Centers for Medicare & Medicaid Services, the Part D donut hole is scheduled to be phased out completely by 2025. A $2,000 out-of-pocket spending cap for Medicare Part D takes effect in 2025. The phase-out of the donut hole is a major victory for seniors and people with disabilities and will help Medicare beneficiaries across the country save billions of dollars in prescription drug costs.