Plan Comparisons and Choosing Your Coverage
Once you are ready to enroll in Medicare, you will need to compare plans and choose your coverage. Original Medicare Parts A and B include deductibles and coinsurance and do not have a cap on your out-of-pocket expenses. Picking Path 1 or Path 2 enables you to control your out-of-pocket spending. You will be able to choose between these two paths once you enroll in both Original Medicare Parts A and B.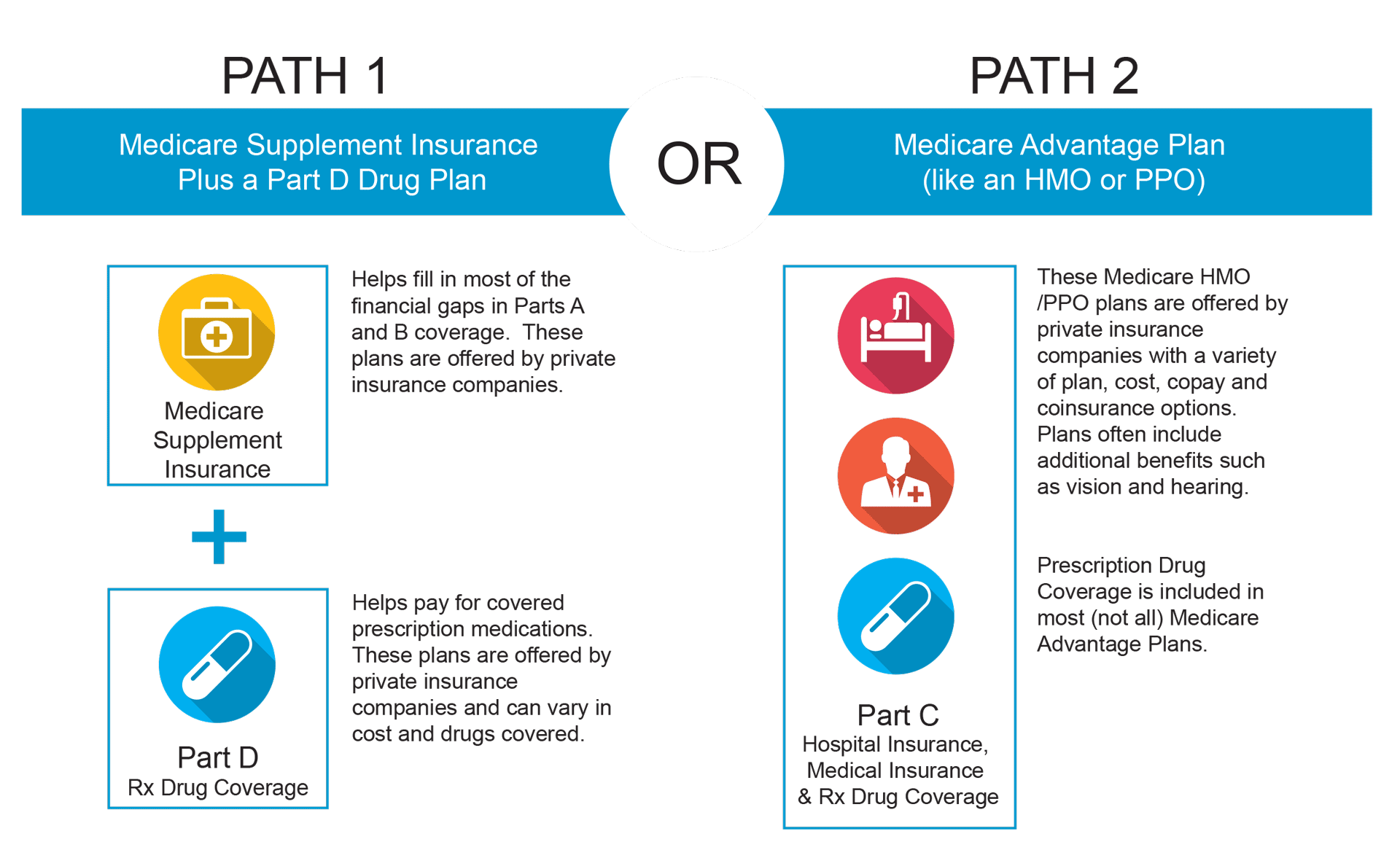 Path 1 includes choosing a Medicare Supplement, also known as a Medigap plan. Medicare Supplements help cover your costs of Original Medicare Parts A and B. Medicare supplements are standardized, offered by private insurance companies, and vary in cost.
Path 1 also includes picking a stand-alone drug plan to cover your prescriptions because original Medicare does not include a Prescription Drug Plan (PDP).
Path 2 is the Medicare Advantage Plan option (Part C), and coverage can include all care components within one plan. Part C combines A (hospital), B (medical), and D (prescription drug coverage).
Medicare Advantage Plans often include additional benefits such as dental, vision, and hearing. Private insurance companies offer Medicare Advantage Plans.
Premiums, copay and coinsurance options, and maximum out-of-pocket limits vary by plan.
Choosing between the two Paths depends on your needs
Path 1 Medicare Supplement/Medigap things to consider:
Do I travel extensively and want access to doctors for regular care?
Do I take foreign trips and want some coverage during my travels?
Do I live part of the year in another state and want access to doctors while living in my 2nd home?
Do I have a chronic health issue that requires me to see specialists outside of my local region?
Do I want the flexibility to choose any US-based doctor that takes Medicare without the need for a referral?
Is having a set cost for my care easier for my budget?

You will have a set premium for the year and no copays.

Do I mind paying for a separate dental/vision/hearing policy?

Original Medicare and, therefore, Medicare Supplements do not cover these services.

Do I mind choosing a stand-alone drug plan that will include a monthly premium and copays?
Path 2 Medicare Advantage things to consider
Would I prefer a "one-stop-shop" type of coverage that will include all my care?
You would put your Medicare card in a safe place and present your Medicare Advantage card for all your care, including doctor visits, hospital stays, and prescriptions.
Having some dental and vision coverage is important to me without needing to purchase separate plans.

Medicare Advantage plans give you an allowance for your dental and vision care. The amount varies per plan.

I want to keep my monthly premiums low and do not mind paying copays and coinsurance as I get care. Having a maximum out-of-pocket limit in place gives me peace of mind.
I don't mind a network-based healthcare plan.
I do not travel much, and even if I do, I am covered in a true emergency.

A Medicare Advantage plan allows you to be seen at an emergency facility as an in-network visit in a true emergency.

Many different carriers sell Medicare Advantage plans, and I need to make sure my doctor takes the plan I'm considering if I want to continue to see them.
I can update my plan every year as needed during the Annual Enrollment Period or other applicable election periods.
Original Medicare is not free, does not cover all your out-of-pocket expenses, and does not have an out-of-pocket maximum.
You will need to select the coverage option that best matches your health, budget, and lifestyle, ensuring that you retain access to your doctors and your medications are covered.
We know that this is a lot of information, and the options can be overwhelming. We can help you find comprehensive coverage that is right for you. We never charge for our services, and as independent Medicare brokers, we won't push any plan over another. We tailor your coverage options to meet your needs. We care about what matters to you and want to be your reliable resource and option of choice. Let us help you navigate the Medicare maze.